I have been preoccupied with President Obama I have neglect my precious
eye candy list
(
check out other
eye candies
). Well, President Obama is comfortably in office and now I can get back to the frivolity of my so-called life.
I know what you're thinking. Hugh Grant?
Come-on!
Well at first glance you might not say he's eye candy worthy, but it's his personality that gets me every time.
It's his wit, sarcasm, facial expressions and physical mannerisms that I love.
Oh and of course he has a British accent and I'm a sucker for accents.
Recommended Hugh Grant Films
"
But when you're a celebrity, you discover that you're no longer the pursuer, but the one being pursued. That's one of the disappointments I have had since becoming a single man."
"I cling to the fantasy that I could have done something more creative. Like actually writing a script, or writing a book. But the awful truth is that I... probably can't! "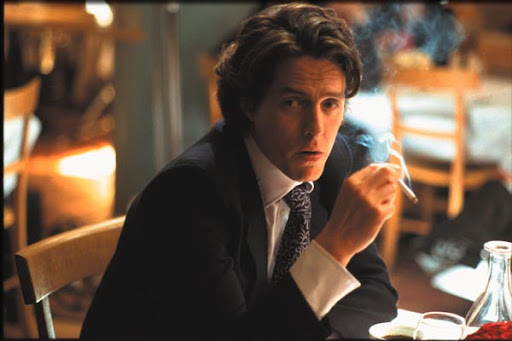 "I don't particularly like babies. I don't mind them for about four minutes. That's my max. After that I can't quite see what everyone's fussing about."
"I don't think there's much point in putting me a deep, dark, heavy, emotional film because there are people who do it so much better than I do."
[on his thoughts of actress Julia Roberts] "Very big-mouthed! Literally, physically, she has a very big mouth. It is a very big mouth. When I was kissing her I was aware of a faint echo."

"I just don't believe in love at first sight any more, even though I've based my whole career on the concept. In my experience, power, money and influence always attract the opposite sex. It's something that I've always exploited - with good results."